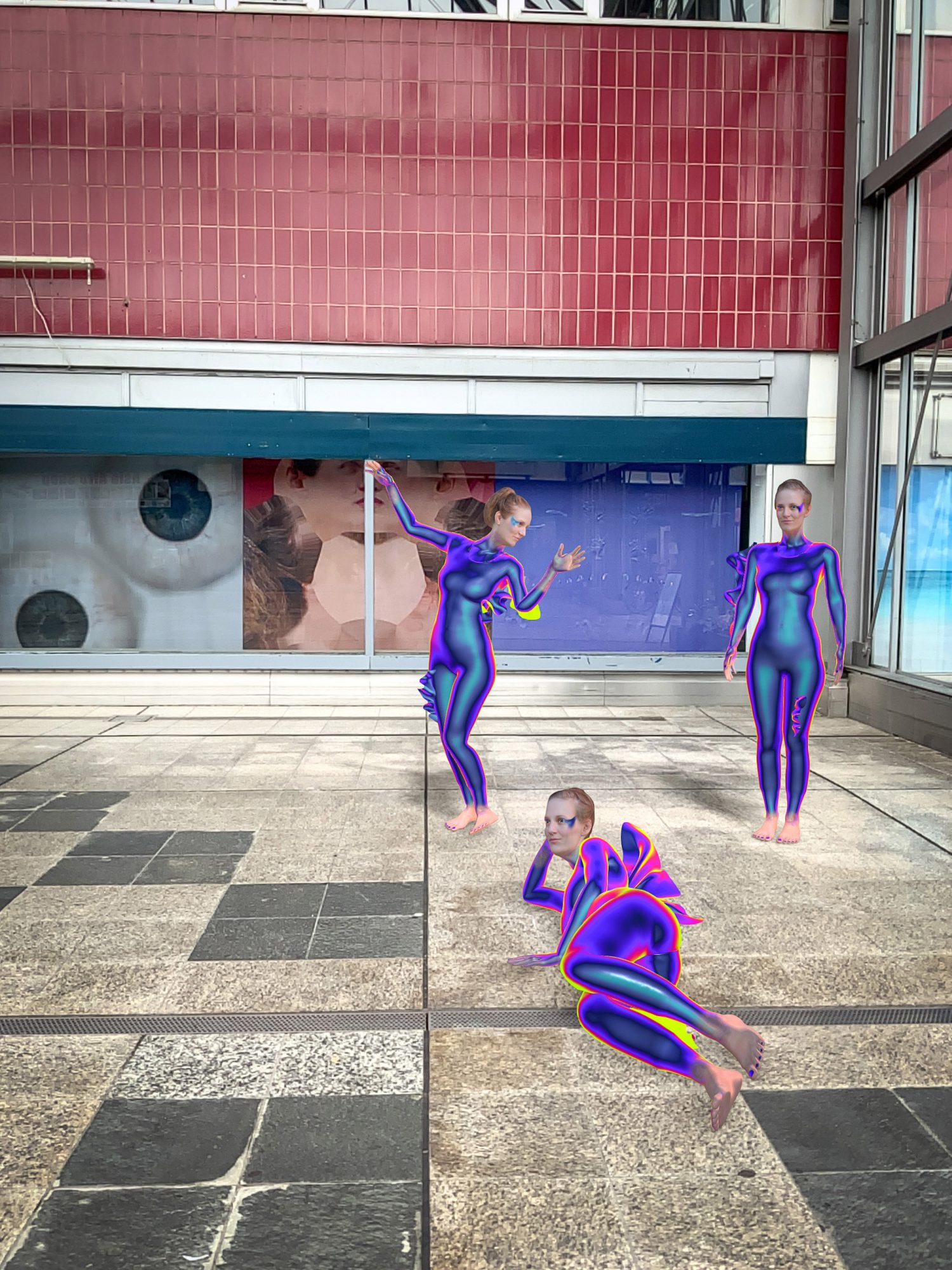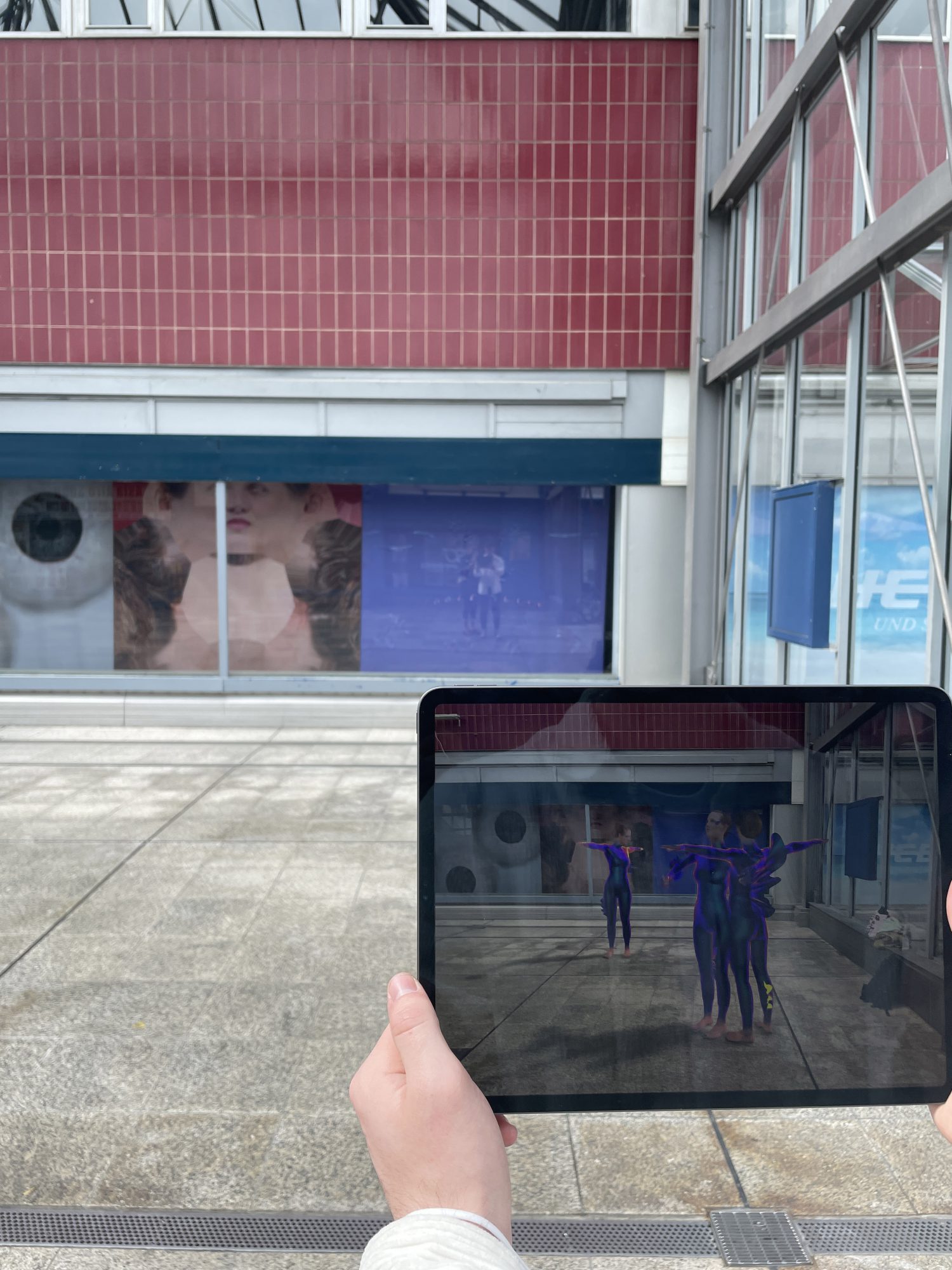 kin_
interaktive Performance in augmentierter Realität (AR) mit einem bis drei Avataren
kin_ ist kostenfrei im AppStore zum Download erhältlich.
Downloadlink: https://apps.apple.com/de/app/kin/id1580039645 
Mehr Visuals: kin.dance
12 Min, 6*6m, Augmented Reality für iPad/ iPhone und Printserie
2021
in Zusammenarbeit mit Brigitta Muntendorf und Inès Alpha
in Zusammenarbeit mit dem Mirevi Lab, HSD Düsseldorf
Gefördert durch das MIREVI Lab (HSD), Kunststiftung NRW, NPN "Stepping Out", Neustart Kultur, Deutscher Künstlerbund, Lavalabs 
kin_ ist ein exploratives Tanzstück, das sich als AR-Applikation für das eigene Smartphone/ Tablet sowohl mit menschlicher Körperlichkeit als auch körperbasierter Kunst durch und mit digitaler Technologie auseinandersetzt.
In dem performativen Tanzstück agieren ein bis drei Avatare im augmentierten Raum und sind durch den eigenen Benutzerscreen nah- und erfahrbar. Das Themenfeld bearbeitet neben der Realitätsverschränkungen und deren Verzerrungen, die menschliche Intimität und die Grenze zur Überwachung durch den Betrachter sowie die Verschiebung von Agency zwischen Performer und Rezipient in Momenten der Interaktion. In Situationen der Intimität, der Suche nach Verbindung und Menschlichkeit beziehen die Avatartänzer den Betrachter mitunter direkt ein – er kann durch seine eigene Bewegung und Interaktion das Geschehen unmittelbar beeinflussen, denn die Avatartänzer reagieren auf Nähe und Abstand, Bewegung und Windimpulse.
Für den ebenfalls interaktiven Soundtrack sowie ein reaktives Kostüm arbeitete Charlotte Triebus mit der Komponistin Brigitta Muntendorf, sowie der digitalen MakeUp-Künstlerin Inès Alpha zusammen.
kin_ wurde zum ersten Mal für das Erholungshaus Leverkusen und den Leverkusener Kunstverein im August 2021 gezeigt.
kin_ ist kostenfrei im AppStore zum Download erhältlich.
Downloadlink: https://apps.apple.com/de/app/kin/id1580039645 
Link Technical Team https://mirevi.de/
kin_ Staff
Charlotte Triebus
in collaboration with Brigitta Muntendorf
and Inès Alpha  
Concept and Choreography         Charlotte Triebus
Concept and Sound Composition     Brigitta Muntendorf   
Scientific support and technical implementation Mirevi, University of Applied Sciences, Düsseldorf  
Costume                 Inès Alpha
Dance                  Charlotte Triebus  
Project Management              Charlotte Triebus
Scientific Consultation and Technical Coordination Christian Geiger
Technical Lead             Nanette Ratz
Financial Management         Ivana Druzetic  
AR Technology Development       Nanette Ratz, Peter Nelke
User Interface             Lisa Glosowitz
Development Assistance         Niklas Tluk, Mirjam Claassen
Avatar and Texture Creation         Timo Stampa
Texture and Shading Creation     Niclas Rosso
Unity Flow and Support         Lisa Glosowitz
Motion Capturing Dance         Ben Fischer
Micro Mimic Capturing         Ben Fischer, Peter Nelke
Post Production             Nanette Ratz Peter Nelke
Post Production Micro Gesture     Rainer Schiller
kin_ is produced by Charlotte Triebus and Mirevi Lab, HSD.
More to explore at www.triebus.com and www.mirevi.de .
Supported by the NATIONAL PERFORMANCE NETWORK – STEPPING OUT, funded by the Federal Government Commissioner for Culture and Media within the framework of the initiative NEUSTART KULTUR. Assistance Program for Dance.
Supported by DISTEL – Data-driven, intelligent storytelling with robots, a project funded by the Ministry of Economic Affairs, Innovation, Digitization and Energy of the state of NRW and the European Regional Development Fund (EFRE).